Testimonials
Special Offer: Receive a Discount Certificate good on your next purchase
for sending in photos of our tarps in use that we post to the website
---

From: David L. Roberts, Jr.
Re: custom-tarp.com
"I just wanted to thank you guys for the great work on the ARGON cover. It fit very well. I hope to conduct some testing next week. The good news is that we may be able to use these in other applications as well, so we'll be in touch!"
David L. Roberts, Jr.
Lead Manufacturing Engineer
GE Healthcare
---
From: David Eubanks
Re: Pool Covers
"Hello, just wanted to let you know that the pool cover you made for me worked fine during our recent brush with Hurricane Nicholas. winds were recorded at sixty miles per hour. The cover did come off because the bungee cords broke but the cover had no damage."
Thanks again,
David Eubanks
Alvin, TX
---
From: Miles Mann
Re: Gym Floor Covers
"Our Procurement Department updated their entire vendor library. I am glad you are still in business. We sure have been happy with your products."
Miles Mann, Associate Director of Facility Operations
Evansville, IN
---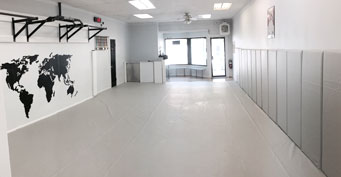 From: Jamie Bridygham
Re: MMA Mat Covers
"Thanks so much for the discount code! We use this tarp to cover mats at a Jiu Jitsu Academy. This tarp takes a beating every night. It holds up to blood, sweat, and tears! We have even made wall padding out of this tarp as well. We just placed our order for a new tarp for our gym expansion."
Jamie Bridygham, Owner Esoteric Jiu Jitsu Academy
---
From: John Knudsen
Re: Gym Divider Curtains
"Everyone loves the certain. Had it up last week already, no problems. "
Thank you,
John Knudsen
St. Johns, Lincoln NE
---
From: Montrose Borough
Re: Ice Rink Liners
"I just wanted to let you know how pleased we were with the ice rink liner! My Councilman who is in charge of the rink stated it was very easy to work with and looked great when it was put down. Thank you so much for getting it to us by the end of the month, it was installed right after New Years and people have been skating on it for a week already! Hope you enjoy the rest of your day! Take care!"
Lillian T. Senko
Montrose Borough Secretary
Montrose, PA
---
From: Steve Gawron
Re: Ice
"I just wanted to say Happy New Year and thank you for your help with my transaction. The product arrived on time as promised and in perfect condition. It was very helpful that all the panels were labeled to the exact measurements that I requested to be made, and they were exact! I am very satisfied so far and if I need anything made again for our outdoor screened porch, I will definitely be contacting you again!"
Sincerely,
Steve Gawron
Long Island, NY
---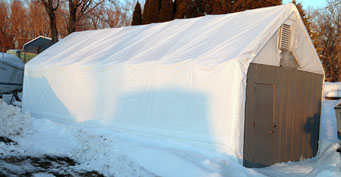 From: Jack Lehto
Re: Hoop House
"Just wanted thank you and your "tarp team" for manufacturing and shipping my new Durashield 8000 Hoop house cover. Two recent snow storms demonstrated the Durashield cover material to resist snow accumulation on the gable roof. I did insert three 10 foot section of underground poly conduit in each pipe pocket. During my next good weather-window I will install 8-10 15" rubber straps on each side to cinch down the cover along both wall sections. Again thank you for your prompt customer service and excellent product."
Thank you,
Jack
---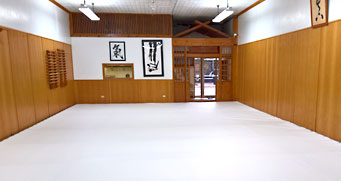 From: Japanese Culture Center
Re: MMA Mat Covers
"I have attached some pictures of our mat so you can show it to your manufacturing team. The mat looks wonderful in our center."
Thank you,
Caleb
---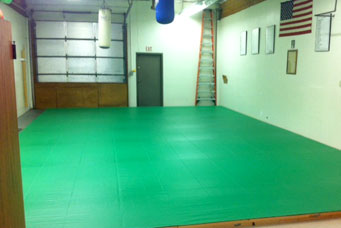 From: Danzanryu Jujitsu
Re: MMA Mat Covers
"Just wanted to let you know that we received the mat cover (on THORsday :-) and installed it over the weekend. It looks great! We tested it with a few throws and it works great, too. A very nice 'foot' to the fabric.
Great service and a pleasure doing business with you."
Best regards,
Nancy
---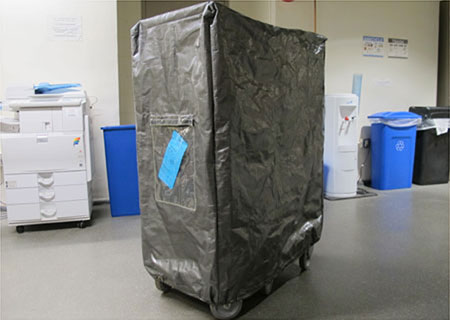 From: Harvard University
Re: Equipment Covers
"Just a head up that the shipment arrived last Wednesday, and the payment is in process. The librarians are absolutely thrilled with the new design. Thanks for making it happen. I finally had a chance to take a picture of the new covers in action and have attached them here!
Thanks again – we are very happy with them!"
Heidi
---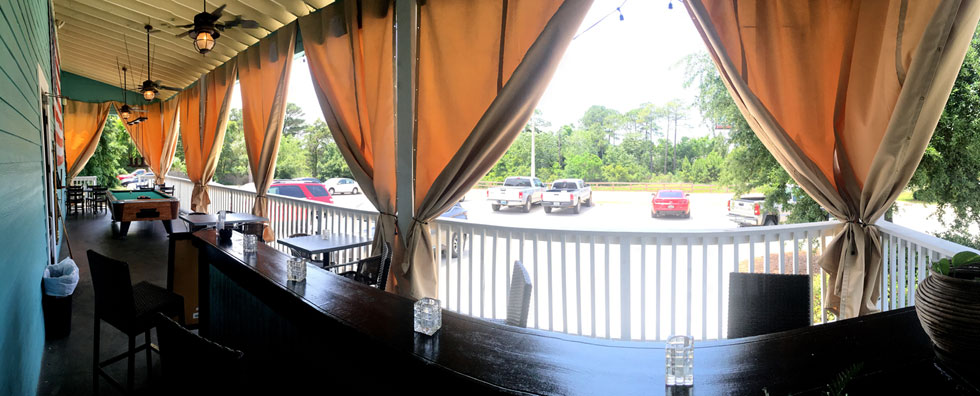 From: Salty Sue's Restaurant
Re: IronShield 1400 – Synthetic Canvas Curtains
"Look great both in fit and fabric, I am very satisfied with the whole process. Good price. Great service and delivery."

Patrick
---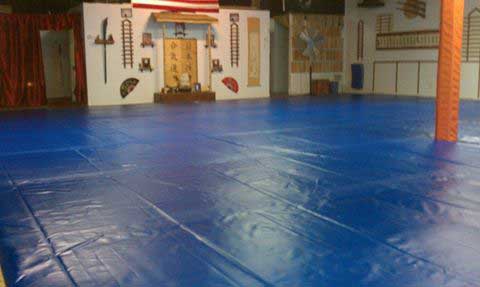 From: Akido School
Re: Mixed Martial Arts Mat Covers
"I was thinking you might like to see the Mat Cover in our Dojo. I love it. Thanks!"

Mike
---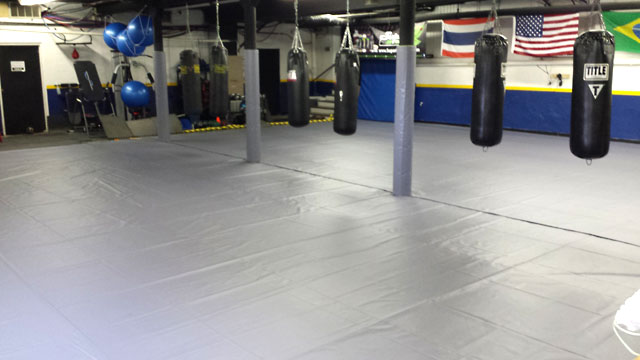 From: Anu Academy of Martial Arts - Morgantown, WV
Re: Mixed Martial Arts Mat Covers
"Cover is down and fits awesome!!!"
On the floor:
(1) set of 2-pieces sized: 22' x 37' 2" Light Gray ThoroShield 1850 Custom MMA Mat Cover 18 oz/sy coated vinyl w/ Velcro around entire perimeter (other 1/2 supplied as adhesive backed for customer's install on 2x4 frame) & (4) 8" diameter pole cut-outs measured on center from FRONT end (per customer supplied drawings) at 25.5", 157.75", 289.75", & 421.75" on 446" length; with 2" Velcro overlap dead-center thru poles; finished sizing
On the posts:
33" x 72" Light Gray ThoroShield 1850 Custom Pole Wrapper 18 oz/sy coated vinyl with both 33" edges hemmed only and matched Velcro on both 72" edges (topside/backside) to attach panel as a cylinder shaped enclosure around padded 10" diameter pole
---
From: Stephen Beck
Re: Canvas Shield Custom Curtain
"Received our tarp and just wanted to let you know that we are truly impressed with the the fit and quality of the tarp. Can't say enough about it! We will surely refer friends and anyone else that is looking for a quality tarp. Looking forward to purchasing more in the future. Thank you!"
Stephen J Beck
Rogers, OH
---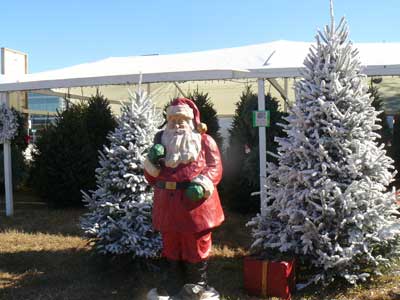 From: Jake Krauklis
Re: White Reinforced Covers
"I cannot thank you enough for this information and your prompt response. This is exactly what I need (I think!!) You are so brilliant to work with and your product is top notch."
With sincere thanks,
Jake
---
From: Dan Morang
Re: Gym Floor Covers
"The mats arrived on Tuesday! We have them laid out on the floor and they look great. I am still recovering from lifting and dragging them around the building to the gym. Thanks for making this happen for us. Thanks again for all of your help!"
Dan Morang, Principal
Perry Elementary School. Perry, ME
---
From: Adam Filz
Re: Waste Water Treatment Plant
"I just wanted to drop you a line and let you know the tarps are working amazing absolutely no algae in the final clarifiers.
Thank you for the great product!"
Adam Filz, WWTPO
---
From: Marilyn Spencer
Re: Custom Canvas Cover
"It's here. It's beautiful. Thank you!"
Marilyn Spencer
---
From: Braskem America
Re: Equipment Covers
"I wanted to take a moment to thank you for the wonderful product we recently purchased. We ordered two silver & black tarps, both custom fits. They arrived today, and they look wonderful!! The sizes were perfect. We wanted to protect some of our equipment from gathering dust, and these will work well. Thanks to your company for providing a great product. We will certainly keep you in mind for future needs."
Matthew Adler, Braskem America
---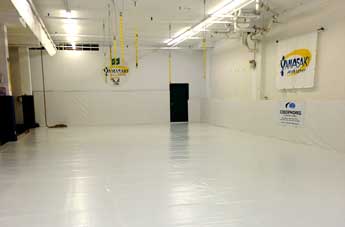 From: Yamasaki Academy - Rockville, MD
Re: Mixed Martial Arts Mat Covers
"Our mat area with the new canvas. Looks like heaven!"
---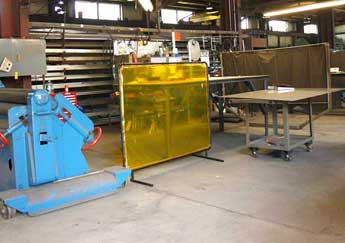 From: The Witte Company
Re: Welding Screens
"By shipping fast you saved us HUGE safety Fines from OSHA... No sooner did our screens show up then OSHA was demanding pictures to prove they were installed!"
Valerie Wilson
The Witte Company
---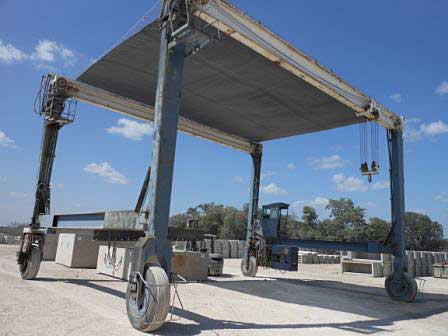 From: Hanson Pipe & Precast, Inc.
Re: Shade Tarps
"Here it is. The installed, finished product. The tarp provides shade for the employees that work out in the sun under the travel lift. Thanks for getting it to us!"
Karen Hixson
Hanson Pipe & Precast, Inc.
---
From: French's Commercial Kitchen Repair
Re: Canvas Tarps
"Hello and Happy New Year! Recieved the tarps in good order- and they are perfect- nice to find a company that takes pride in what they do.....I've allways found that firms in MN & WI take care of business the right way!"
Amadee French
French's Commercial Kitchen Repair
---
From: Millie Johnson
Re: Custom Tarp
"Just wanted to let you know that the tarps worked GREAT! Thanks so much for your help."
Millie Johnson
---
From: Vernon Mohesky
Re: Canopy Covers
"Wanted to get back to you and say the tarp has been used several times already and fits perfectly.
Thanks, I will recommend you to others."
Vernon was one of our satisfied customers that took pictures of our finished product in use. As a result, he received a discount good towards his next purchase. You can too, just e-mail us your photos to info@thortarp.com!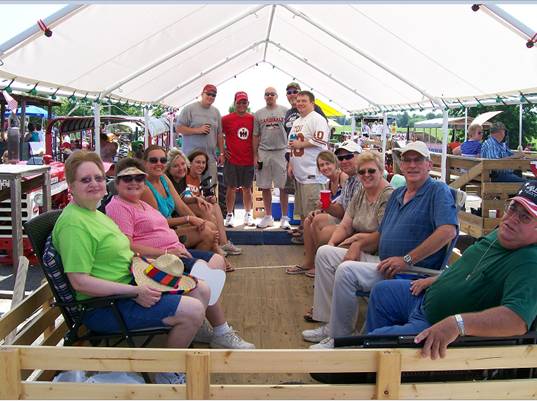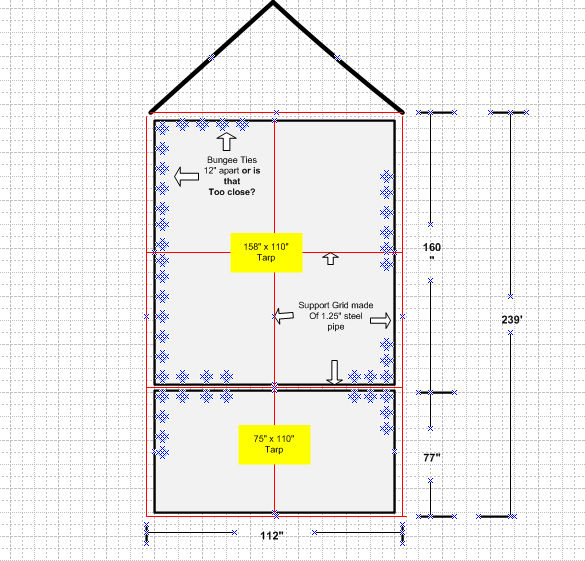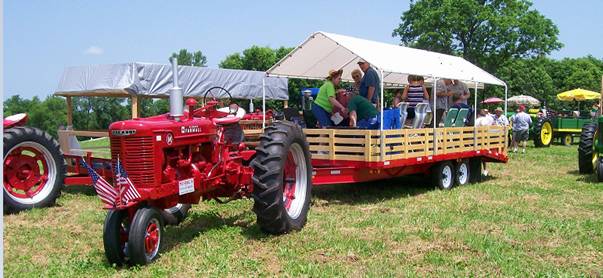 Vernon Mohesky
---
From: Rich Goss
Re: Canopy Covers
Very remarkable customer service. I'll remember this and share your site/info with others at our beach that are in the same situation as me.

Rich Goss
---
From: Dennis Sateren
Re: Canvas Tarps
Just a note to thank you for such great service! Your communications were timely and accurate. The product is perfect! The pricing was also great! Many thanks to you and all of your co-workers.

D. Sateren
---
From: Instrumentation Engineering
Re: 5 Sided Custom Tarp
If I need more tarps in the future I will be sure to contact you…. I am glad I found your company online, you got me exactly what I needed.
Matt Grimestad
Instrumentation Engineering - Project Engineer
---
From: Dian Kendrick
Re: Canvas Drop Cloths
Hello,

I recently ordered 4 panels of your 9x12' dropcloths to make drapes for my enclosed breezeway. They look really nice and will hold up beautifully with our Texas humidity. The only alterations needed were hemming one side of each panel and cutting and hemming the bottoms. I used electrical conduit for my drapery rods. I saved big $$$ by using the dropcloths!
Dian was kind enough to enclose some before and after pictures. As a reward, she received a discount off her next order! You can too, just e-mail us your photos to info@thortarp.com!
Before: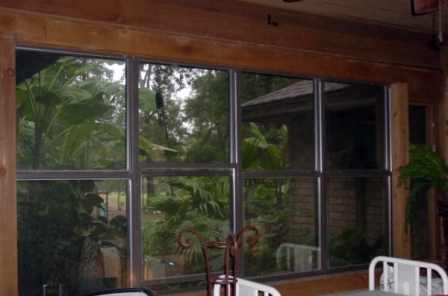 After: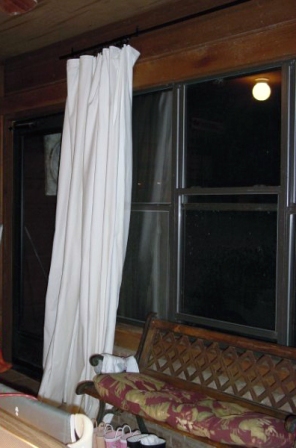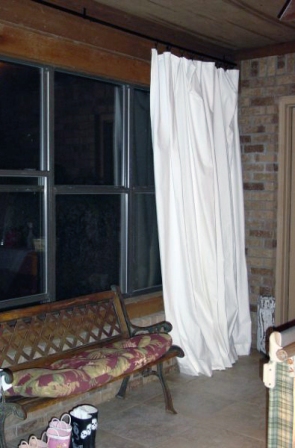 Thanks,
Dian Kendrick
Montgomery, Texas
---
From: Sean Snedeker
Re: Athletic Tarps
The tarp is awesome and a perfect fit. The adjustments you made eliminating the sewn in edges was a great one. I am very pleased with it. Thanks also for making the adjustment in cost. I will certainly be in touch when it comes to ordering our next tarp. Thanks again.
Sean Snedeker
Duke University
---
From: Mark Shea
Re: Porch Enclosures
I have been raving about these tarps to all of my friends. I told them that my electric bill was down over $80 for the month of June over last years bill, despite having 2 more people in my house. Now, you have impressed me with your fast response to my concern. I will continue to spread the word. Thank you!

Best regards,
Mark Shea
Phoenix, AZ
---
From: Michael Hayduk
Re: Gym Floor Covers
Steve,
The floor covering was received today and I will get to see it tonight.
Thank you for the speedy shipment (they are going to be walking on the dance floor on Saturday night). Good doing business with you,

Michael
Westlake, OH
---
From: Karen Kosek
Re: Diverter Tarps, Drain Tarps
I just wanted to thank you for sending those so quickly. It really helped save us a lot of work.

Thanks again,
Karen
Westlake, OH
---
From: Jocelyn King
Re: ThoroShield 1850
Steve,

Wanted to say thank you for the tarp and your help in getting just the right thing. It is perfect! Gave your name and info to a colleague who may contact you. It has made a difference in the blocking of the wind.
Thanks again,
Jocelyn King
Strafford, NH
---
From: Michael Carreiro
Re: Canvas Tarp
Steve, my new tarp arrived today. I am actually going out of town tomorrow and this came just in time. The tarp is beautiful and just as ordered. Thanks so much for your continued attention. I am very impressed with your customer service. In fact, I work for a company whose #1 priority is customer service and I am going to include this in future training with our new employees.
Thanks again,
Michael Carreiro
Richardson, TX
---
From: Kathy Schacht
Re: ThoroShield 2700 FR Gym Floor Cover
Thank you so much for all your help with this order. Thanks especially for your expertise in selecting the correct size and weight and for expediting the order.
Thanks again,
Kathy Schacht
Staten Island, NY
---
From: David W. Ellis
Re: ThoroShield 1300 FR White Boat Tarp
I received my order and the quality was excellent and it works perfect for what I wanted. Thanks for supplying a good product. It was a pleasure doing business with you.

David W. Ellis
Fort Myers, FL
---
From: Timber Wolf Preservation Society, Inc.
Re: Shade Tarps
THOR shade tarps keeping these big guys cool in blazing summer heat!
I've looked at other shade cloths, and no one has the quality product of the ones you make. These cloths really take a beating in the weather, and they really hold up to the weather, plus they don't make any noise in the wind- which would really spook the wolves. I've attached a photo of Big Ed (here)- he's built like a football player.

Timber Wolf Preservation Society, Inc.
Greendale, WI
---
From: Stan Moyer
Re: Ice Rink Liners
Just a quick note to say "thanks" for getting the liner to us so quickly. I installed it last night, flooded it and it is working great. I think I am going to simply go with this liner, replace it every year if I need to. The size was perfect, it was easy to work with and the price is right. Thanks again.

Stan Moyer
Sylvania, OH
---
From: Terry Goff
Re: Porch Enclosures
Just wanted you all to know I received my clear PolyShield 200 tarp. It was just what I wanted. Thank you all so very much. Looking forward to doing business with you all again!

Terry Goff
Grafton, WV
---
From: Patti Alberts
Re: Return
This in response to one of the very few times when a customer's tarp was made incorrectly. At THOR we are very dedicated to customer satisfaction, and in this instance we let Patti keep the incorrectly made tarp and gave her a 100% refund.

Thank you Steve, you are very reputable. I appreciate you and your company and do realize that things happen.

Thanks again,

Patti Alberts
Divide, CO
---
From: Paula Hirvasoja
Re: RV Covers

We put the cover on the trailer today. It fits perfectly. The door opening is in exactly the correct spot. I am exceedingly happy. I do believe the cover will outlast the trailer... I have included some pics. Thanks for everything.

Paula Hirvasoja
Corpus Christi, TX
---
From: Rob Alward
Re: RV Covers

Just wanted to know how much we like our new RV cover... it is great. Fits perfect and was worth the wait.

Rob Alward
Granby, CT
---
From: Roderick Firth
Re: Windscreens
Last year I made a very timely purchase from you. After speaking with you on the phone, I bought four large tarps from you to use as wind protection for several large glass doors on our house in Florida. What a great idea that was!!!
Those tarps protected our house through two hurricanes with sustained winds of over 100 mph. There was no damage to the glass and the mosquito screen didn't even blow out. Needless to say, I am a great believer in your product.
The product is relatively low cost, stores easily, can be installed without tools, actually helps to keep the roof on, allows light and vision.
Thanks for your help.
Sincerely,
Roderick Firth
---
From: Kent Jones
Re: Boat Shed Covers
The tarp worked great for my boat shed. It held up to 70 mph winds with no failures. Your advice on using 2 layers with a air gap in the middle worked great and the shed stayed warm, and I did not fuel to keep it warm.
Its nice to do business with people who offer such good advice.
Thanks much,
Kent Jones
---
From: Toni Clark
Re: Horse Shed Covers
I just wanted to let you know that after 3 years of use the ThoroShield Tarps I ordered to cover my horse sheds have been great. I was glad to know I could still get one when I added a shed recently.
They have held up to the elements just as you said they would.
Thanks,
Toni Clark
---
From: Bruce Wright
Re: BBQ Trailer Cover
 Just a quick note to let you know that the BBQ trailer cover arrived. It fits great and the workmanship is wonderful. You guys truly do a great job. I will send you a picture of the final application.
Once again Thanks,
Bruce Wright  
P.S. You are too cheap for the product you produce!!
---
From: Christopher J. Newman
Re: Screenhouse Cover
I would like to thank you for the nice fitting tarp that I ordered from your Website.  Attached are some photos of the screenhouse that was covered (before and after). 
Christopher Newman
---
From: Gina Rauchenstein
Re: DuraShield 6000 Clear Tarps
FYI.....my tarp arrived when you said it would. it finally stopped raining yesterday so i could install it. it's even cooler than i thought it would be. the size is exactly what i ordered...no weird allowances. and the edges...the edges are dreamy....folded and bound so nice, no scrappy stuff. did i mention the grommets? how nicely spaced they are and sturdy to boot. you got a super happy customer right here.
sincerely,
Gina Rauchenstein
---
From: Palo Verde Nuke-Arizona Public Service
Re: Roofing Tarps
Dave,
Dave, Thanks for your concern. The Tarps are working fine, in fact they are the best that we have had. You and your people do good work! Usually it takes us two good days to put the roof on and secure it, this time we did it in one. The tarps are heavy enough that they don't blow in the wind, that alone is a big improvement. We say Thank You!
Thanks and Have a Nice Day!
---
From: CHARLES CAIN
Re: Truck Trailer Tarps
Dear Sirs,
I would like to thank you for the tarp that THOR TARP manufactured for me. It is exactly what I ordered with plenty of tie down points and was built to precisely the measurements I requested. It fits my trailer like a glove. The material that the tarp is made out of is of outstanding quality and durability. I know this because the first time I used my new tarp I tied it down with some 1" wide nylon motorcycle tie downs and the end of one of the straps came loose and went under the trailer tire while I was going down the freeway! The strap ripped in half without doing any damage to the tarp. Again, I am very impressed with the quality of your materials.
I would also like to thank and acknowledge Nancy A. Nicholson, who worked with me on the ordering and purchase of the tarp. She was very knowledgeable and helpful in this process. She deserves to be recognized.
Charles Cain
---
From: VALLEY MATERIALS & CONSTRUCTION, INC.,
Re: Hot Asphalt Tarps
Dear Nancy,
In response to our conversation about the tarps we ordered from THOR TARP, we here at Valley Materials & Construction, Inc. are very satisfied with our new tarps. Here in Colorado the weather is unpredictable and with our new THOR TARPS we can keep our season running hotter and longer. Our new tarps are very durable and the hot asphalt does not stick or burn through the tarps!!!
Thank You,
Ninon Malouff, President
---
From: Kristen Olgren
Re: Satellite Dish Cover
Dear Sirs,
A couple of weeks ago my husband Karl used the THOR Satellite Dish Cover on a road trip. That was their first opportunity to road test the cover. His employer had wondered how well it would stay on when driving at highway speeds for a long period of time. The tarp worked fine, but the truck broke down!!
In other words, they are very happy with the cover. It is serving its purpose very well.
Thanks,
Kristen Olgren
---
From: LAKE CENTRAL HIGH SCHOOL ATHLETIC DEPARTMENT
Re: Athletic Field Covers
Dear Steve:
Just a note to let you know how happy we are with the ThoroWeave 900 football sideline tarp. We liked the first one so much we had to order a second one for the visitor's sideline. In the past we have had the problem of the tarp mildewing and killing the grass when left down for an extended period of time. That certainly is not the case with the ThoroWeave. It is easy to clean, can be left down for a week at a time, and is easy for our maintenance staff to put down and take up.
We did need a rush job on our second tarp because we needed to protect that area for a semi-state soccer match and you did a great job of getting it to us within a week of our order. I would be happy to visit with anyone who is considering buying one of your tarps and we certainly will call THOR when we need additional field covers in the future.
Sincerely Yours,
Mark Peterson
Athletic Director
---
From: Bob & Eileen Waldick
Re: Pool Covers
Hey, pool cover guy,
I would like to just take a moment and thank you and your company for producing such a great pool cover. I just removed it yesterday and I only had a few leaves to clean up.
No algae, and no fuss. I simply pulled the cover out to the yard, squirted it off with the hose and let it dry. It's now neatly folded and stored overhead in my shed.
Thank You, Thank You,
Bob & Eileen Waldick
---
From: Sandra Lawton
Re: Shade Cloth
I received the shade cloth I ordered from you, and it was better than I had expected. It was measured just right and the hemming and grommets were just right. It is now covering my Koi Pond in this 110 degree Texas heat.
Thanks so much for a good job.
Sandra Lawton
---
From: Dick Clark
Re: Shade Cloth
I thought you would like to see how I used your recent shipment of TW800.
This side of my home is subject to the Palm Springs afternoon sun and needed additional shading. TW800 was the answer and is the only sun screen I have found that holds up during our +110 degree summers.
Dick Clark
---
From: Joe Liello
Re: Canopies/Awnings
Short note to tell you the tarp is great we had some 30 to 40 mph winds this weekend and did not even move it at all . And it looks great.
Joe Liello
---
From: Steven & Daniel Watson
Re: Canopies/Awnings
Thank you for the great work you did on our custom mesh tarp. It became the perfect awning for our deck, blocking just enough sun to be comfortable but allowing plenty of light through. It even reflects the "porch light" near the patio door creating a warm glow over the whole deck after dark. Heavy wind and rain are no problem at all. We will have many years of enjoyment on our shaded deck thanks to you.
Steven & Daniel Watson
---
From: Dan Searle
Re: Great Service
I received the tarp in excellent condition. Thanks for all your assistance.
Take care,
Dan
---
From: Ronald McDonald II
Re: Great Service
GREAT TARP!
Thanks for the great telephone assistance and your wonderful product! We're very pleased!
Ronald McDonald II
Kane, PA